Discover more from Normcore Tech
A newsletter about making tech less sexy, more boring, and anything adjacent to tech that the mainstream media isn't covering.
Over 9,000 subscribers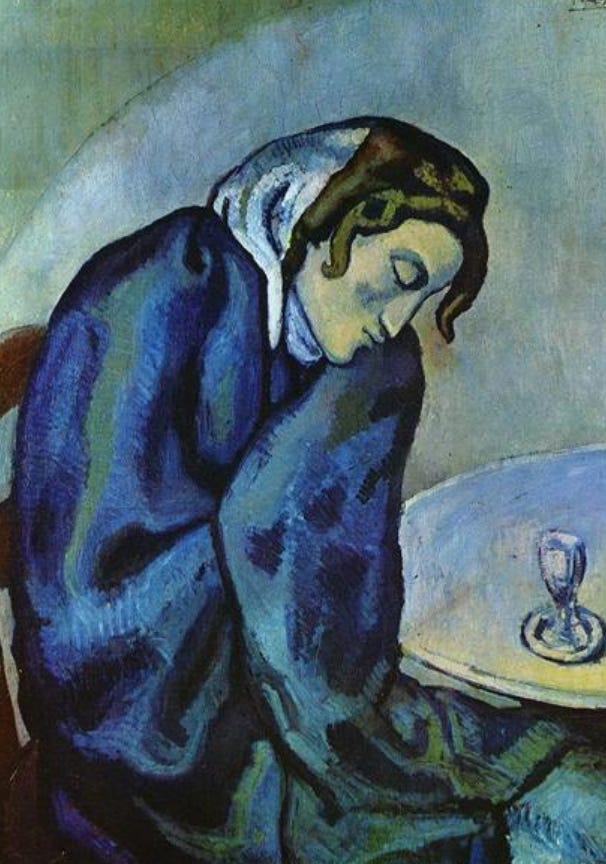 Art: Drunk woman is tired, Pablo Picasso, 1902
I can count on one hand the number of recent(ish) tech purchases or experiences that have brought me joy.
The first one was the Intel iMac my parents bought me as a college graduation present in 2007. Well, they gave me the money for it. I picked it out myself. I drove the hour-forty five from Pennsylvania, down to the sprawling Baltimore suburb of Towson, Maryland, where the Apple store closest to me was located. With every minute on the road, my excitement mounted. It was not only at the exuberant feeling of doing this big thing on my own, but of the idea of what the Mac could give me. Unlike my janky HP laptop, which disconnected every five minutes and always had to be hard-wired, I could now be online all the time. I could write. I could create. I felt hope.
I remember handing over my credit card, like a Real Adult, and being given that huge, enormous, beautiful box that I was now responsible for. I remember driving with it in the trunk, turning over the possibilities in my mind, and then, finally, opening it in my room. Inside that box was more than just the metal, it was the feeling of freedom, sophistication, of adulthood.
The computer itself was a joy to use. Like Apple advertised, just worked. I could watch movies, surf the web, and start to learn to write code. I used that Mac to seamlessly Skype with my parents when I went to DC to live alone for my first job, to stream the Netflix discs that were then still arriving via mail. The first time it needed to be rebooted was over a month later. I used it to create a slideshow set to music that I played at my wedding in iMoview, to make countless things in Photoshop, to start a Wordpress blog. I didn't feel creative or empowered when I used my Windows laptop, but with my Mac, I was flying.
Second on the list was the flip phone I got from Verizon in college. I was replacing my T209 with, I believe, the LG VX9100. It was one of those super-happening phones that had the larger keyboard inside.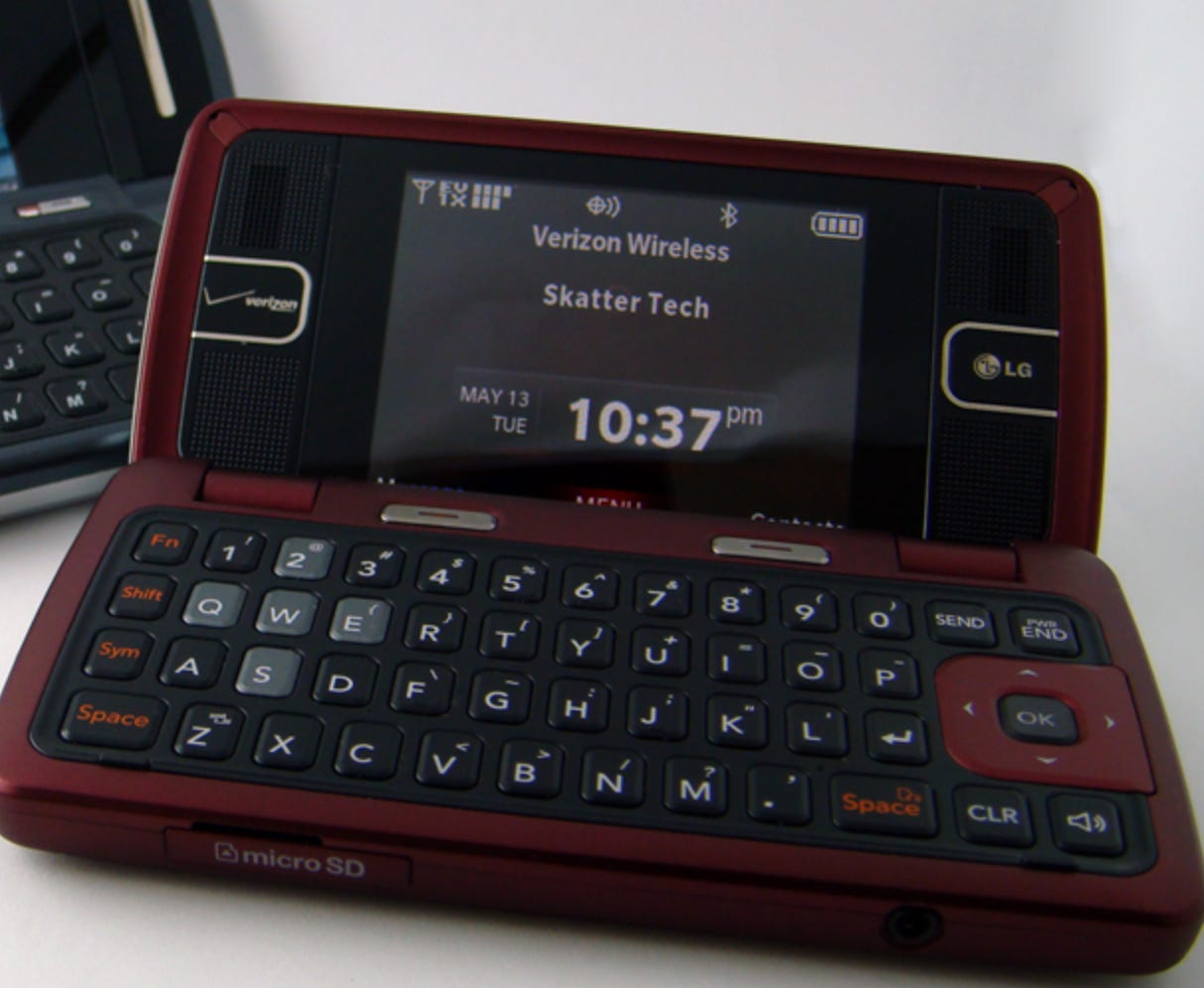 I ordered it on Verizon.com and I had to sign for it, so the day it was being delivered, I waited with extreme anticipation. Back in those days *puts on glasses and strokes white beard*, your old number was ported to your new phone while your phone was still on the truck (these days it takes minutes in the store). So, for a couple hours, you were without a phone, until you got your new phone and started charging it.
I remember that feeling of nervous weightlessness, of freedom, of anticipation of all those shiny new features, of the ability to type text messages, with one hand, extremely quickly, of the janky pre-iPhone internet opened up to me, at last.
The last thing that delighted me when I got my Gmail and Facebook invites, also in college, I felt like the coolest kid on the planet. Penn State, my university, was probably the third or fourth wave to get Facebook. All my friends at Harvard, Cornell, and other top-tier schools already had it and had described it to me as "this really cool directory where you can see other people in your class and talk to them." Once I got it, I started friending everyone, talking to them, leaving funny messages on their walls.
Gmail was a little more oriented towards nerds (at least in the beginning) and took longer to take off, but the announcement, on April Fool's Day, was an enormous bombshell. Unlimited storage? The ability to search email and converse with conversations instead of simple emails? And the archive? Everything about it seemed fresh, new, and inventive.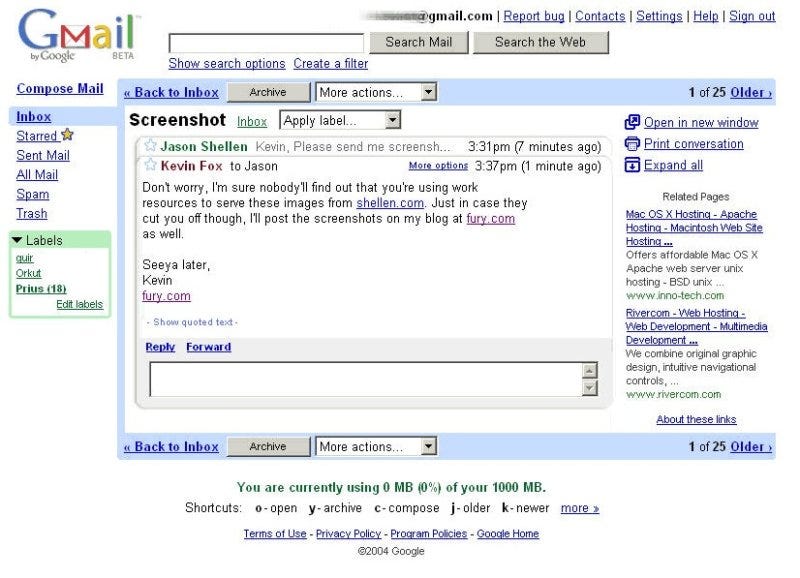 Today, I'm older and much grouchier. Every single tech thing I buy or experience, including my brand new Macbook Pro, which I love, doesn't come with a feeling of euphoria.
It comes with a patina of unease and paranoia. "What is this thing going to do to me?"
It's probably not a coincidence that all of my favorite tech memories come from when I was younger than 25. Maybe it's just the price we pay for aging and gaining life experience. We look back through rose-colored glasses.
But all the reports over the past five years or so about how all this tech has been failing us have really gotten me down.
If my hardware is not failing me, it's my software.
It seems like these days, everything is designed to be hostile to the user experience. Or rather, partially, it's true that items are intentionally designed this way.
But also, it's unavoidable. First, because of the data exhaust that emanates from every aspect of our lives and becomes the background noise of every web app. Second, because the big companies that control this hardware and software, which were smaller, cuter, and first doing no evil 10-15 years ago, are now huge, oligopolistic presences in our lives that now can dictate what we do as consumers. And third, because everyone, drunk with the idea that more data and more sensors is good, has joined the rat race in putting measurement, experimentation, and dark patterns into everything.
Related to this, I strongly recommend Ed's thread of very long, ridiculous things he found at CES:
Even my TV, apparently, is tracking me.
Last fall, Arvind, who often tweets about security and tech, talked about several papers that show the extent of TV tracking.
(Don't read that if you're in a good mood today. Actually, you probably shouldn't have read this, either.)
Anyway, I'm feeling lately like all the tech in my life is conspiring against me, so if you've had a technological experience or bought a product that was extremely joyful recently, please send me a note or post it here. We could use some more hope for 2020.
Here's mine, by the way. It's small, but it's something.

What I'm reading lately:
Why are we all just constantly fighting online with each other? It's the Internet of Beefs.

Charles Babbage tho

This one:
---
About the Newsletter
This newsletter is about issues in tech that I'm not seeing covered in the media or blogs and want to read about. It goes out once a week to free subscribers, and once more to paid subscribers. If you like it, forward it to friends!

Archive
Normcore Swag: Stickers. Mug. Notepad.
About the Author:
I'm a data scientist in Philadelphia. Most of my free time is spent wrangling a preschooler and a baby, reading, and writing bad tweets. I also have longer opinions on things. Find out more here or follow me on Twitter.