Discover more from Normcore Tech
A newsletter about making tech less sexy, more boring, and anything adjacent to tech that the mainstream media isn't covering.
Over 9,000 subscribers
Can I pay you to forget this?
More Succession thoughts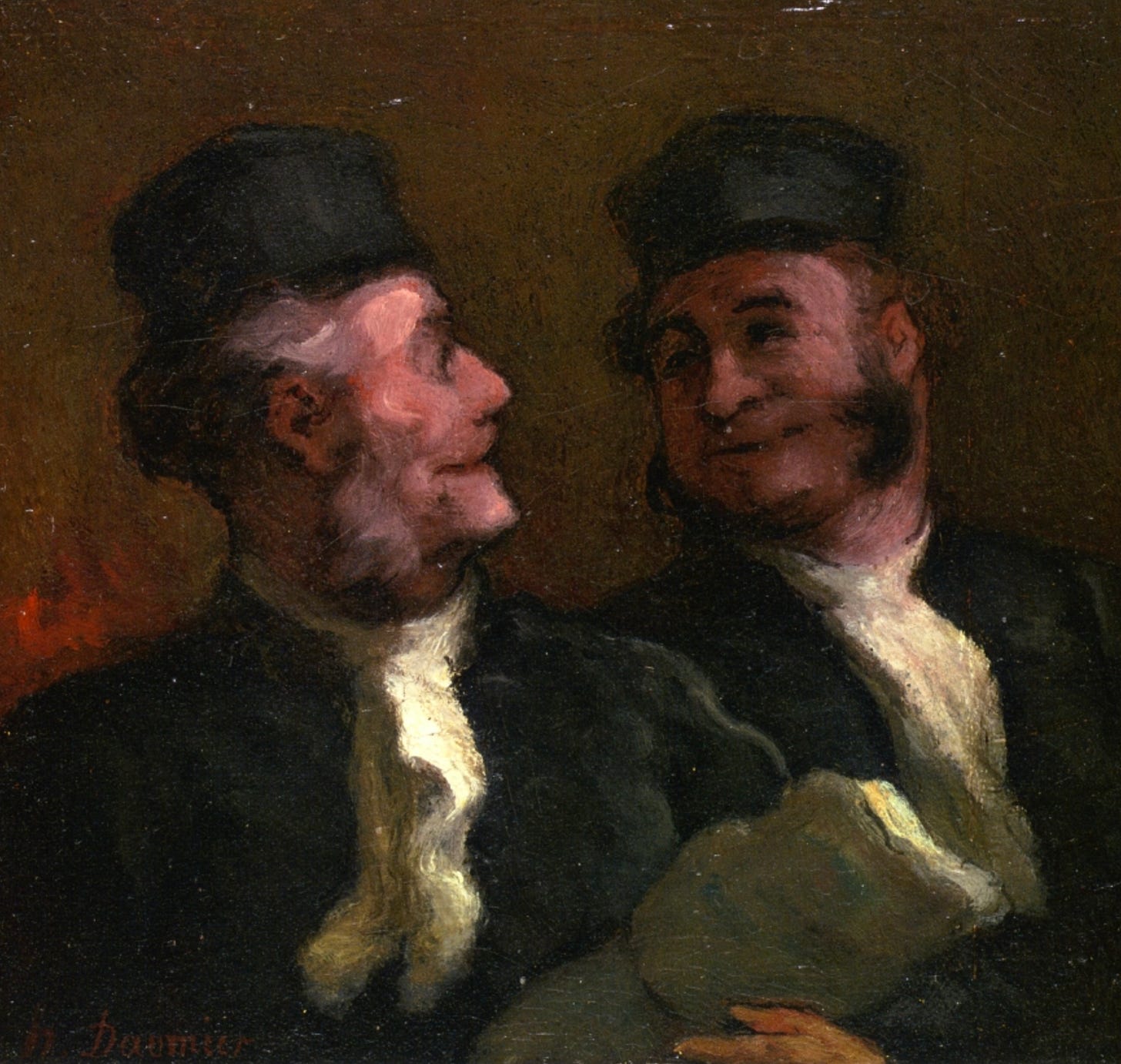 Art: The Lawyers, Honore Daumier, 1854
This is going to be a quick one because I have to go watch the second season of Succession, but I've been watching the first season of Succession, and noticed something pretty interesting. I'm sure this was intentional on the part of the writers, but one of the things they show is how secluded the extremely rich and godawful Roy family is from all of society by showing how they interact with people in a different social class than them.
In two cases, Roy family members blow up at people who work for them, either cleaners or servers, just by being really unspeakably and ridiculously rude, and then dismissing them. In both cases, there is a quick shot afterwards of some undisclosed person standing patiently near the servers with papers, presumably a non-disclosure agreement, and an envelope, presumably holding some amount of cash that's acceptable to normies, to get them to not talk about the Logan behavior.
This was so interesting to me. Is this really how rich people live? If so, it makes sense, because their every move could potentially be broadcast in gossip columns, or the Wall Street Journal. Best case scenario, you become known as a spoiled mogul. Worst case scenario, something you do makes the stock price tank. It's very convenient to be able to effectively delete the past hour or so of your life from public record.
But here's what I think: I think all of us are going to be like this soon. It's already happening. We already don't post pictures of our kids. We already hand over our phones for some dinners or parties. Right now it's a very niche trick (and actually I would pay a lot of money to be asked to hand over my phone because it means I'm out of the house!) But how long is it going to be before we are either ourselves generating or having to sign NDAs that are one-offs, for kids' birthday parties, for bachelor/bachelorette parties, for corporate events?
How long before there is an app for that, and how long before these become a legal point of contention? Not too long, actually, because the future is already here:
A woman must delete photographs of her grandchildren that she posted on Facebook and Pinterest without their parents' permission, a court in the Netherlands has ruled. The case went to court after the woman refused to delete photographs of her grandchildren which she had posted on social media. The mother of the children had asked several times for the pictures to be deleted.
As a pretty pro-privacy person, I'd love to come to an event knowing no one is taking pictures of me, but what does this mean for our social structures? Humans are not mean to socialize in steps and procedures, which is why the current (necessary) restrictions around face-to-face contact suck so much: we socialize fluidly, moving between half-said assumptions, innuendos, hints, and through unstructured interactions. Staying six feet apart at all times sucks and is awkward, and asking people to sign an NDA to come to your kid's third birthday, or before joining a photo-sharing chat, is awkward.
We are getting into new, uncharted territory with this social stuff, and we are trying to build the bridge as we go. Hopefully the social distancing thing won't be around for too long (fingers and toes crossed), but this other social boundary, we're going to have to figure out how to deal with it for a while.
What I'm reading lately:
This (local to Philly!) student did a Time magazine photoshoot on Facetime

Looks like the rest of the parents are doing just as well as me

A fantastic long read about the real deal behind the data scientist in Florida

Someone hating Google Classroom? You love to see it.
---
The Newsletter:
This newsletter's M.O. is takes on tech news that are rooted in humanism, nuance, context, rationality, and a little fun. It goes out once a week to free subscribers, and once more to paid subscribers. If you like it, forward it to friends and tell them to subscribe!
The Author:
I'm a data scientist. Most of my free time is spent wrangling a preschooler and a baby, reading, and writing bad tweets. Find out more here or follow me on Twitter.