Discover more from Normcore Tech
A newsletter about making tech less sexy, more boring, and anything adjacent to tech that the mainstream media isn't covering.
Over 9,000 subscribers
Kim Karda$hian's cash
A dilettante grows up
Happy Friday, let's do a fun celebrity thinkpiece newsletter today. :)
One thing that takes up a (startlingly) significant amount of my time is thinking of stupid machine learning memes to post on Twitter. It's hard to say where the inspiration for most of them comes from, but recently, I've been reading a ton about the Met Gala, the once-a-year exclusive charity ball that Anna Wintour hosts at the Metrapolitan Museum of Art in New York City.
Every year has a theme, and this year's was "camp", for a very wide definition of "camp." Something that really struck me was Kim Kardashian's outfit (mildly NSFW.), and how good she looked compared to Kanye. That seems to be the case for the past couple years
Whenever I've been seeing Kanye and Kim together lately, Kim always looks top-notch perfect and sparkly, and Kanye is descending further and further into a dark place, so I decided to meme them:
The joke didn't land as well as I thought it would have, namely because it was stupid, but I was surprised to learn that people don't think that Kim is a serious and extremely online businesswoman.
Thinking back on it, it makes complete sense to me. The only popular coverage of Kim is in relation to the celebrity drama she generates. But, once you peel back the curtain on the Kardashian empire, and take a second-level moisturized sheer glance, you find a lot of surprising things.
First is the fact that Kim is estimated to be worth $350 million dollars.
A quick run-down of her empire:
Initially, she was a stylist for Nicole Richie and thus became exposed to reality television.

In 2006, Kim, Kortney, and Khloe opened DASH, a clothing/consighment store that ran for 11 years a

2007 was the year her…intimate tape… came out. It's hard to say whether she released it, but she acknowledges that it helped her fame. At this point, it's important to point out that she is a rich kid who grew up in Beverly Hills and had a lot of advantages that other people did not. However, she was able to parlay those advantages into:

"Keeping Up with the Kardashians", which started in 2007 is, unfortunately and amazingly, still on the air. It provided millions of dollars of free advertising to DASH, and to other Kardashian ventures

In 2009, she started dabbling in further commerce by releasing a workout tape. Soon after that, she moved into cosmetics and perfumes.

In 2011, she got married for the first time, and the licensing for the ceremony to E!, as well as the photos to People Magazine, ended up totaling in over $1.5 million for Kim

Much more recently, she experimented with online mediums like Instagram, which has become extremely lucrative for her, netting as much as $500k per Instagram post (noted that she "only endorses products she likes")

In 2014, she launched an iOS app that netted $43 million in its FIRST QUARTER.

Her latest thing, is, again, cosmetics: "In the first five minutes of Kim introducing her KKW Beauty line in 2017, she sold an estimated $14.4 million worth of product (or about 300,000 items)"

And, now, she's gearing up to celebrate her 5th anniversary to Kanye with a wedding makeup line
She's not the only Kardashian to cash in. As a recent NYT piece notes,
And an expanding menu of Kardashians offers something for everyone. Is body positivity your thing? Try Khloé's Good American jeans. ("I never knew I was considered chubby until I became famous," Khloé told me.) Want "working mom" lifestyle products? On April 2, Kourtney will debut Poosh, a beauty and wellness website named after her daughter, Penelope. Or perhaps you're into oversize camouflage jackets and wedge booties? Kendall + Kylie is there for you.

Most of these labels are sold almost exclusively online and with virtually no marketing budget, thanks to the women's massive presence on social media.
I'm much more interested in Kim than the rest, for now, though, because lately, she's decided to take on a different direction, proving her versatility as a promoter, influencer, businesswoman, and someone who takes a step ahead: she's decided to study for the bar exam.
Kardashian West added she's always been interested in criminal law — her father Robert Kardashian famously was on the team of lawyers representing O.J. Simpson — but she was inspired while she working to free Alice Marie Johnson from prison last year. Kardashian West met with President Donald Trump at the White House to discuss Johnson's case, and Johnson's life sentence for a nonviolent drug crime was successfully commuted.

"I'm sitting in the Roosevelt Room with, like, a judge who had sentenced criminals and a lot of really powerful people and I just sat there, like, Oh, shit," Kardashian told Vogue. "I need to know more."
She now spends weekends studying for the exam.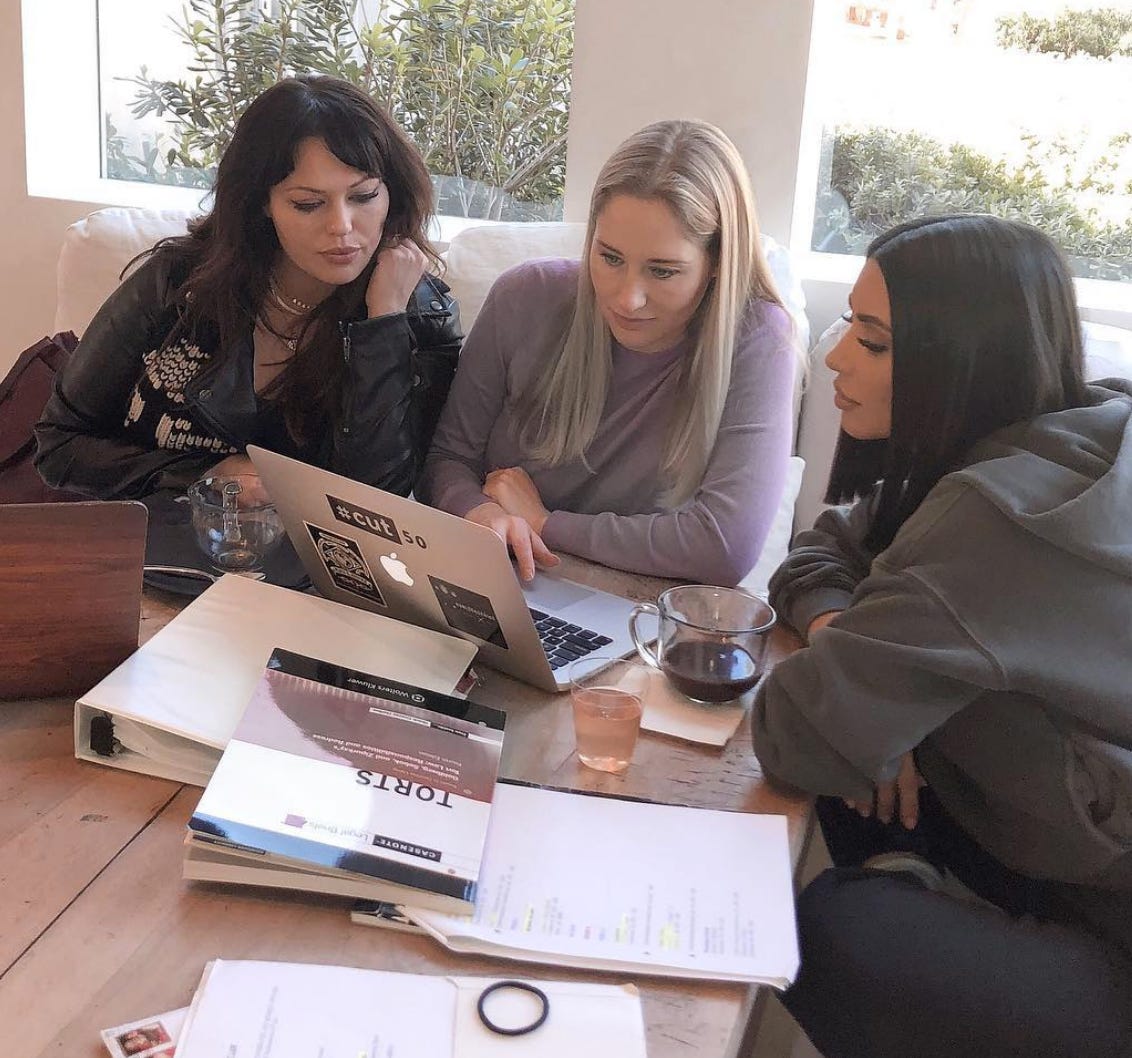 If you're just going by the news headlines, it seems like Kim is a dilettante, only interested in partying, clothing, makeup, men, and, most recently, shape-fitting formwear.
But the bulleted timeline tells a different story, of a girl who was always interested in clothes, but also very curious about what the marriage of that and entrepreneurship would look like, and who has worked steadily and ceaslessly over the past ten years to build to a point where she knows what works to get people's attention.
The NYT article continues,
Still, people tend to talk dismissively about the Kardashians as "famous for being famous," rather than as entrepreneurs with an influence and reach perhaps second only to the reality TV star in the Oval Office. Maybe that's because they are so unabashedly materialistic (Khloé recently posted an Instagram photo of her 10-month-old daughter, True, in a $160,000 pile of multicolored Birkin bags). Or maybe it's because they are empowered women who also care deeply about achieving the perfect smoky eye?
As she herself says in her bar Instagram post,
Last year I registered with the California State Bar to study law. For the next 4 years, a minimum of 18 hours a week is required, I will take written and multiple choice tests monthly. As my first year is almost coming to an end I am preparing for the baby bar, a mini version of the bar, which is required when studying law this way. I've seen some comments from people who are saying it's my privilege or my money that got me here, but that's not the case. One person actually said I should "stay in my lane." I want people to understand that there is nothing that should limit your pursuit of your dreams, and the accomplishment of new goals.
One of the quotes I posited in my Substack about page was from Pushkin's Eugene Onegin, "Быть можно дельным человеком и думать о красе ногтей…" - It's possible to be a very practical person and still think about your nail polish."
Love her or hate her and what she represents as modern American pop culture and social media in 2019, I'm going to take a stance and say that she has been a woman to be taken extremely seriously for at least the past five years, her financial and political power are only growing, and I'm rooting for her to take the bar.
Art: The Mirror of Venus, Edward Burne-Jones, 1870
What I'm reading lately:
---
About the Author
I'm a data scientist in Philadelphia. Most of my free time is spent kid-wrangling, reading, and writing bad tweets. I also have longer opinions on things. Find out more here or follow me on Twitter. This newsletter, including warm takes about data, tech, and everything around those two. It goes out twice-ish a week for free. Paid subscribers get even more warm takes.
If you like this newsletter, get friends to subscribe!