Discover more from Normcore Tech
A newsletter about making tech less sexy, more boring, and anything adjacent to tech that the mainstream media isn't covering.
Over 9,000 subscribers
The life and times of LinkedIn Oleg
Oleg came into my life sometime in 2018. I was scrolling aimlessly through LinkedIn, the social network of last resort that I read when I've read all of Reddit, Twitter, my email, and the news, and want to keep procrastinating. One of his stories rolled through. I was not connected to him in any way, but it seems that one of my connections had commented on something he wrote, therefore propelling his writing into the middle of the stream of psuedo-professional musings and motivational posts on my feed.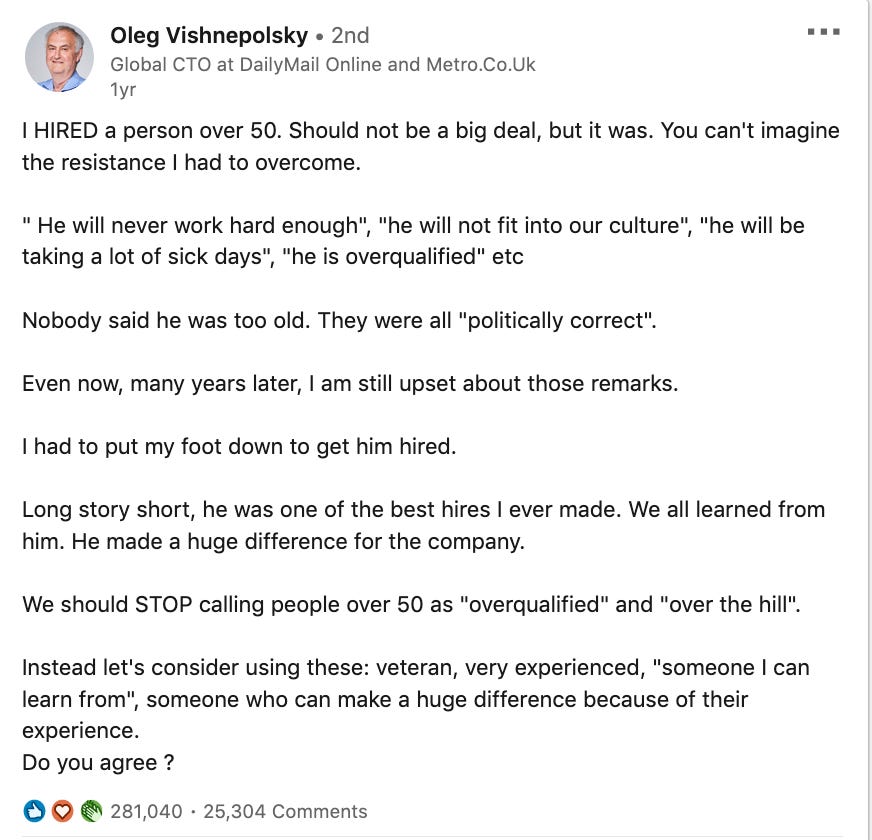 A typical Oleg post looks something like this. It starts with a VERY AGGRESSIVE sentence with RANDOM capitalization, and a simple, empowering message that the typical office worker sitting in their open-office environment, drinking stale Au Bon Pain coffee, at the mercy of management, scrolling through LinkedIn, can get behind.
The posts, which are usually a story that takes place over the course of 15 or so excruciating one-sentence paragraphs, end with "Agree?" or "Do you agree?" for extra engagement.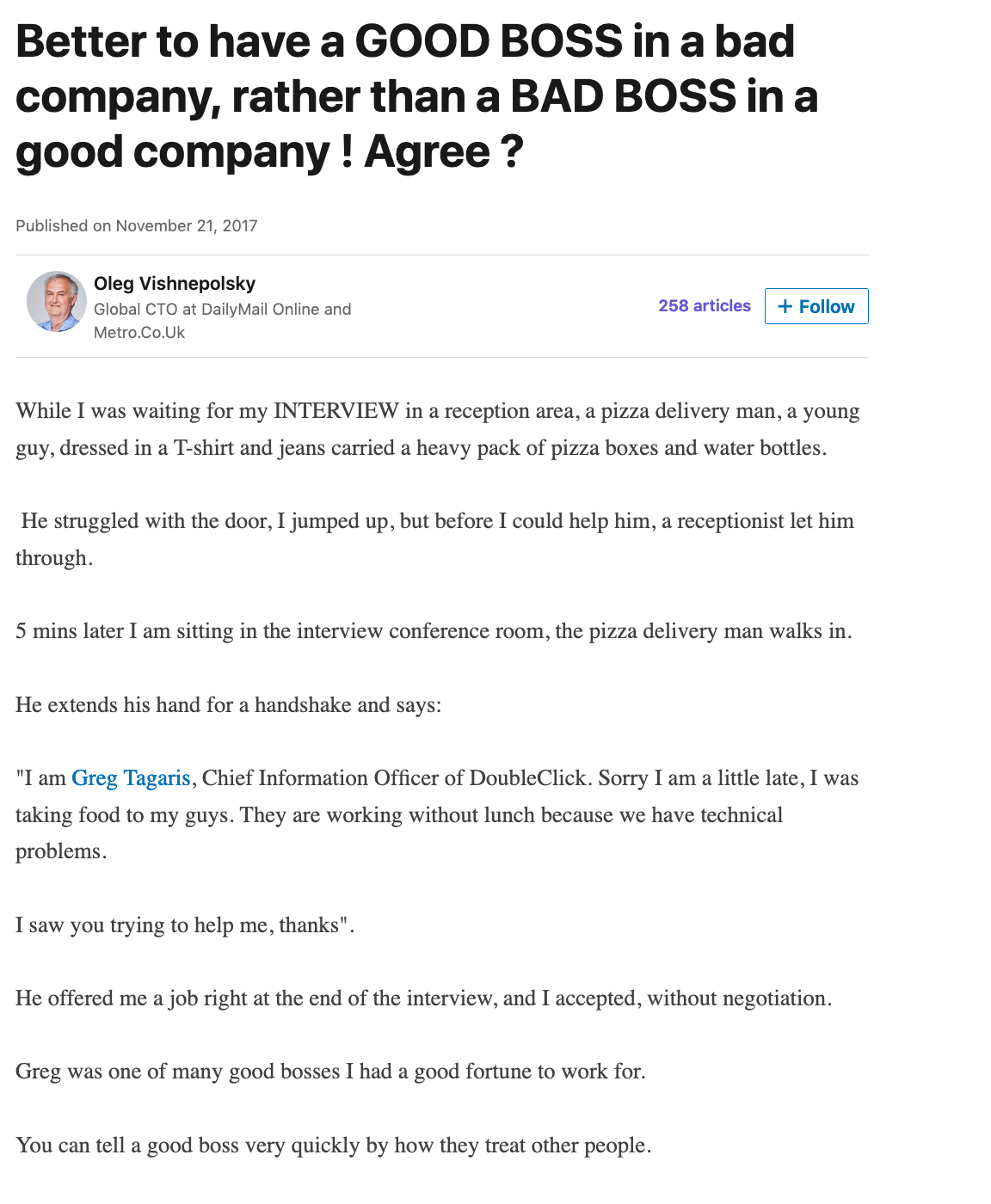 Over the past couple years, more and more of Oleg's STORIES filtered into my feed, to the point where I became CURIOUS about who this guy was and how he had gotten to the point where half a million people were reading his boardroom haikus.
According to LinkedIn, there are several things the site takes into account when showing you the newsfeed:
First, content is classified as Image/Text/Video/Long Form/Link.

Depending on the classification, content is then distributed to a sample size of people.

Once placed in front of these people, different actions have different weights to determine whether the post should be either (1) demoted because it's low quality or (2) shown to more people because it's high quality.

Editors review the content to see if it's worth distributing beyond that users' network.
How do they classify what's good content?
The role of the LinkedIn feed is to provide timely, professional content. What may pass as acceptable content on a general social network may not be a pleasing experience for a professional social network like LinkedIn. We would like to eliminate as much low-quality content from the site as possible. (Vicki's note: A couple days ago I saw someone share a photo of their cat and tag a cat food brand, so LOL)

At creation: Our online and nearline classifiers label every image, text, or long form post as "spam," "low-quality," or "clear" in near real time. Our Support Vector Machine-based linear text classifiers classify content synchronously with a latency of 200 ms. Some of our deep neural networks take longer and are run asynchronously.

As it gathers audience: We continuously predict whether a share is likely to go viral. For this prediction, we monitor the network reach of the original poster, members interacting with the content, and the temporal signals like the velocity of likes, shares, and comments, in addition to the computed content quality scores.
So this gives an idea of the mechanism, but doesn't really say what factors the svm (support vector machine, a type of machine learning model) considers "clear", and what it boosts. What makes Oleg's content so deliciously viral?
To understand this, it helps to know Oleg's background. Interestingly enough, he started out as a hardcore developer, but has always had a background in media. Ironically, even though Oleg is an influenced, it's very hard to get any information on Oleg outside of LinkedIn and posts about/around his LinkedIn presence. Unless you look in Russian, which I did both on Google and Yandex, Russia's homegrown search engine that does very well for Russian-language searches.
So who is Oleg? His father was one of the editors of Pravda, the premier information/disinformation newspaper during the Soviet Union. He graduated from Mifi, a prestigious physics university in Moscow, and went on to work for IBM in the United States, authoring the S2 Spreadsheet, and moving on from there to work at DoubleClick and as the vice president of Search and Publishing Technologies at AOL before landing as the "Global CTO at DailyMail", the online version of the British tabloid.
Across many of his jobs is a theme of working online between the intersection of publishing, media, and technology, a theme that seems to have carried through to his LinkedIn musings and short writings elsewhere.
It's hard to say when, because LinkedIn's UI is trash for doing historical searches (and I was way too lazy to get a developer account just for this specific driveby thinkpiece), but sometime in 2016 or 2017, Oleg started posting short, inspirational haiku business literature, which people liked to skim and share in hopes of revealing something about their own business preferences.
One Quora answerer explained his phenomenon this way:
Yes, Oleg writes a lot of positive posts targeted at a regular employees. And while I do not know and can't fully judge if it's true Oleg's personality that shines through his posts, one thing for sure is that his content is something that almost "exploits" LinkedIn's population needs.

To explain:

There are millions of users on LinkedIn and we can expect that a lot of these people are low-mid level (not leadership) purely due to the distribution of hierarchy - "one manager = 2+ subordinates".

So a big chunk of LinkedIn users are people willing to grow, willing to get better rewards, fair rewards, promotions, recognition, etc. etc.

And when you want something, but not getting it - the sweetest information you can get is that - it's not your fault!:) You are amazing, but "they" just don't see it.

And that's what Oleg writes. "He feeds the hungry". Don't get me wrong - I don't judge him or think he is doing something wrong:) No.
Soon enough, people started wondering who this person was and how he got into their feed.
I myself posed this question, without a satisfactory answer.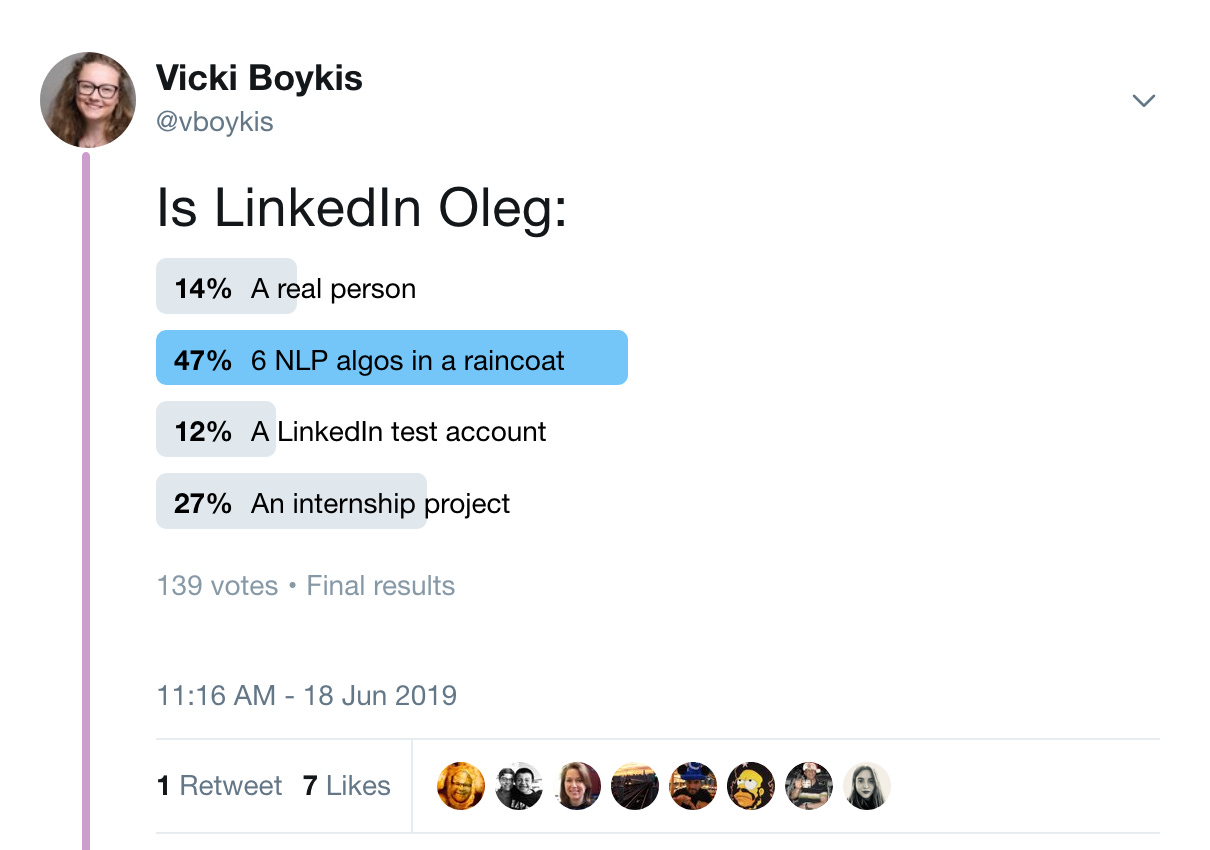 While Oleg and his true intentions remain a mystery, what has blossomed in his wake is the type of content that gets him promoted: Short poetic stories that capture our ever-shorter attention spans, and ones that are inspirational to the average employee, offering empowerment or some kind of motivation. These kinds of posts have allowed LinkedIn to blossom into an unholy combination of Facebook and Twitter without character limits or shame.
There are several types of these kinds of posts:
the "business leader" peering down from her lofty Olympus and offering advice to the peons

the hustler and grinder who gets up at 4 am to drink green smoothies and Kill It all day and own the haters all night

the eager intern/new job seeker who has overcome extreme difficulty, taken 3 hours of programming courses, and is tomorrow Super Excited to start a Senior Director job at Amazoogle

vague business assertions backed by hideous pie charts
The algorithm, of course, is now picking up on engagement from all of these types of posts. If people like this content, it must be good. Therefore, this content gets approved, promoted, and elevated, taking LinkedIn on a wild ride to the true bottom of the American business culture internet.
So thank you, Oleg, for sharing your stories and, as a result, making LinkedIn's algorithms even worse, and inspiring hordes of imitators.
Do you agree ?
Art: Self Portrait in Distress, Edvard Munch, 1919
What I'm reading:
Mainly trying to digest this news about Facebook's Libra

This lovely Instagram story about Iceland's National Day
---
About the Author
I'm a data scientist in Philadelphia. Most of my free time is spent kid-wrangling, reading, and writing bad tweets. I also have longer opinions on things. Find out more here or follow me on Twitter. This newsletter, including warm takes about data, tech, and everything around those two. It goes out twice-ish a week for free. Paid subscribers get even more warm takes.
If you like this newsletter, support it and get friends to subscribe!